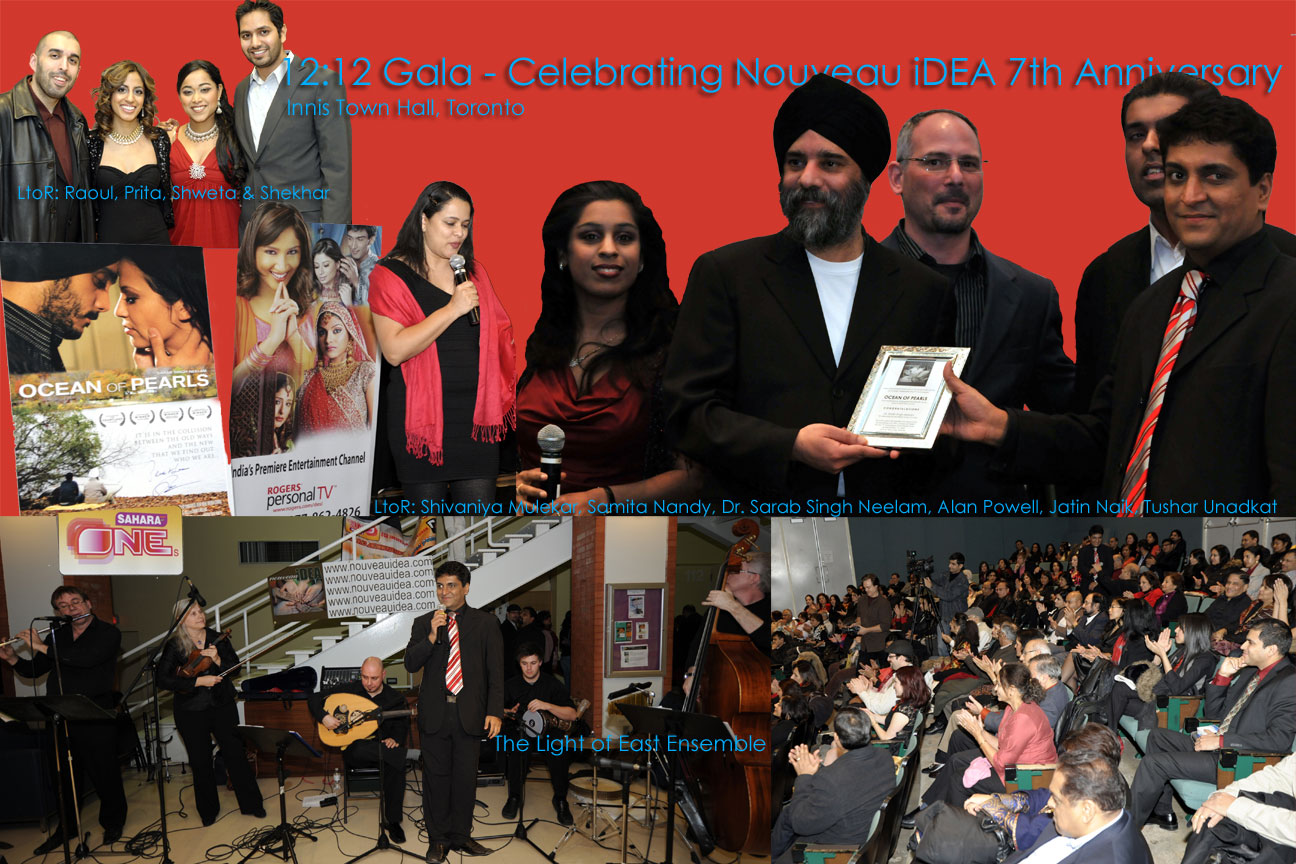 Award-winning Ocean of Pearls was screened at the 7th Annual Gala by Nouveau iDEA. The 12:12 Gala showcased celebrity performances from the East and West. The Light of East Ensemble rocked the evening, and Canadian playback singer and Bollywood sensation Sweta Subram charmed the guests with her singing. Canadian recording artist Prita Chhabra was the cherry on top! Community movers & shakers, media, and VIPs packed the Isabel Bader Theatre in downtown Toronto to show their support for Nouveau iDEA and its founder member Tushar Unadkat.
Found in 2002, Nouveau iDEA (New International Dimension in Entertainment & Arts) exists to promote artists of various cultures and bring the arts and entertainment community together under a multicultural umbrella that celebrates our differences, encourages communication, and continues to allow a diverse cross-section of artists to flourish. As a result, communities can integrate, appreciate, and get inspired by artistic expression worldwide.
Guiding Principles:
– We recognize that it is only through inclusion that the arts and entertainment sector will continue to flourish.
– We respect the diversity of artistic expression. Award-winning Ocean of Pearls
– We encourage communication, as it is the foundation of being understood and understanding others.
– We believe in the transformational power of creative expression.
Founder & Executive Director
Tushar Unadkat, CEO, and Creative Director of MUKTA Advertising, holds a Master of Design from the University of Dundee, Scotland, and Honors in Photography from the University of Wolverhampton, England. An award-winning scholar, Tushar Unadkat, executed art direction in the film, fashion, and advertising industries worldwide. Unadkat won copious international awards and nominations, including the BBC Asia Award, New York City Citation, India's Pride of Gujarat, ReelWorld Film Festival TrailBlazer, and an award of recognition from the Canadian House of Commons. Currently, Tushar serves on an advisory board for various philanthropic organizations. #TusharUnadkat
Please join Nouveau iDEA online readers from the entertainment and arts industry on Facebook.
We are over 10,000 members: www.facebook.com/groups/nouveauidea.
Please follow us on Social Media (Twitter, Instagram, Linked In) @NouveauiDEA.
For more information and to learn the history of Nouveau iDEA, visit www.nouveauidea.net.